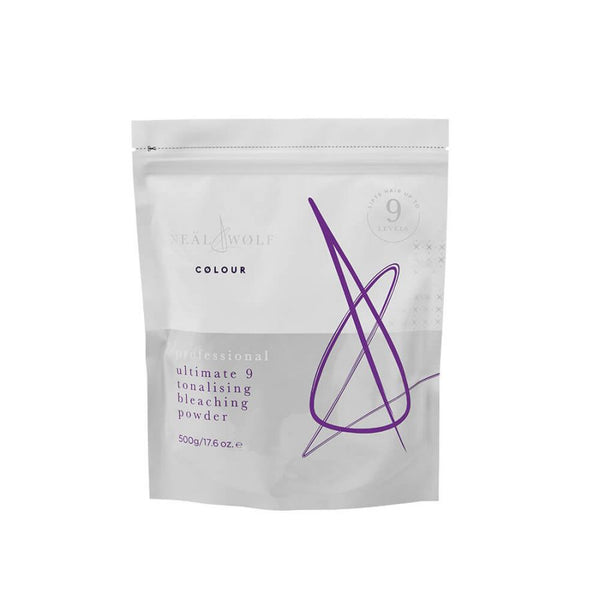 Neal & Wolf Ultimate 9 Tonalising Bleach Powder 500g
Ultimate 9 Tonal Bleaching Powder is a unique formulation that lightens all hair types up to nine levels, delivering a cool undertone. When combined with Cream Peroxide, it develops the perfect consistency for precision colouring with foil and freehand techniques.
Top Tips:
Our professional formula combines next-generation anti-yellowing compounds to create beautiful cool tones and leave behind a gorgeous, long-lasting finish.
When mixing Ultimate 9, you will see beads of red and blue appear, these make the violet undertone. The product needs to be mixed well and applied with a clean brush to avoid pigment transfer on the hair.
Key Benefits


Part of the Neal & Wolf Colour range

500g

9 Levels of lift

Delivers a cool undertone


Additional Information
How to use
Combine bleaching powder with Cream Peroxide in a clean, non-metallic bowl. If you plan to use the mixture with foil and for highlights, allow 15-30 minutes for development. And for freehand application, allow 50-60 minutes for development.
Full Ingredients
Potassium Persulfate, Sodium Silicate, Sodium Metasilicate, Ammonium Persulfate, Magnesium Carbonate Hydroxide, Sodium Stearate, Cyamopsis Tetragonoloba (Guar) Gum, Paraffinum Liquidum (Mineral Oil), Tetrasodium EDTA, Sodium Lauryl Sulfate, Silica, Tetrabromophenol Blue, Acid Red 92
See The Results For Yourself