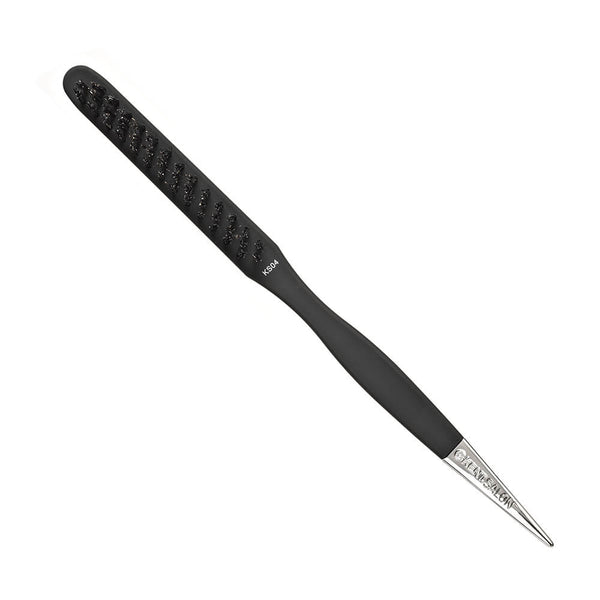 Kent Salon The Back Combing Brush (KS04)
Kent Salon The Back Combing Brush
An essential tool for creating the perfect up-do as well as dressing long hair or making huge volume from back combing.
Moulded from a single piece of heat proof ABS the brush is poised and balanced in a way that is second to none, the extended curved and tapered handle finishes in a beautiful point making it ideal for picking up and sectioning hair.
The head is filled with 3 rows of the finest natural boar bristle mixed with nylon for added strength. The brush head and handle feature opposite curves to fit the shape of the head, which also improves weight distribution for nimble work when needed. An indispensable tool for anyone who wants to create fantastic hair.
All Kent products are covered under warranty from manufacturing defects for 12 months from the date of purchase. This warranty does not apply to any defects arising from fair wear and tear, damage by you or use otherwise than as recommended by the manufacturer.
In order to clean your brushes, it is recommended to wash in warm soapy water and allow to dry naturally. Please do not submerge brushes in water for long periods of time as this will lead to damage.
It is strongly advised against using any harsh chemicals such as Barbicide on Kent Salon brushes.
Key Benefits


Moulded from a single piece of heat proof ABS the brush is poised and balanced in a way that is second to none

The extended curved and tapered handle finishes in a beautiful point making it ideal for picking up and sectioning hair

The head is filled with 3 rows of the finest natural boar bristle mixed with nylon for added strength


Additional Information
How to use
Full Ingredients