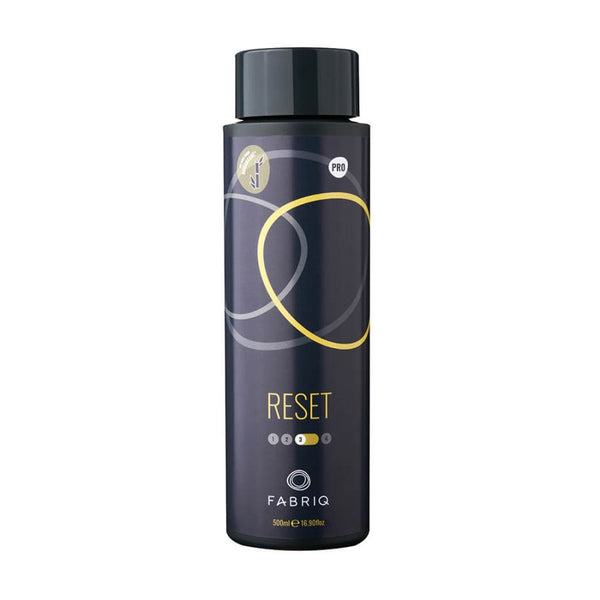 Fabriq Reset uses low pH proteins to transforms the shape, strength and condition of every type of hair, Reset repairs and rebuilds the hair so it's left stronger, softer, shinier and healthier.
Additional Information:
pH 1.5 - 2.0
CARBOCYSTEINE, KERATIN AMINO ACIDS (V), HYDOLYSED WHEAT PROTEIN
GLYCERINE, SOYBEAN, PALM & RICE EXTRACTS
AFRICAN & AMAZONIAN FRUIT & PLANT EXTRACTS
CAROB BEAN EXTRACT
Key Benefits
Key Benefits:



Smooths and straightens

Contains a hydrolysed protein blend to repair and rebuild hair

Adds supersoft shine



1000ml
Additional Information
How to use
Step 1
Preparation
Your stylist will gently cleanse your hair, encouraging the cuticles to open so it can absorb the treatment.

They'll personalise this preparation depending on your hair type and its condition.

Step 2
Application
Once your hair has been prepared, your stylist will apply the treatment that transforms the shape and health of your hair.
They'll customise the products they use to get the best results for your hair.

Step 3
Smooth & iron
All your hair needs now is a quick dry, a smooth with a brush, and then it's ready to iron.
Your stylist will adjust the temperature of the irons and decide how many passes to complete, depending on your hair.
Full Ingredients