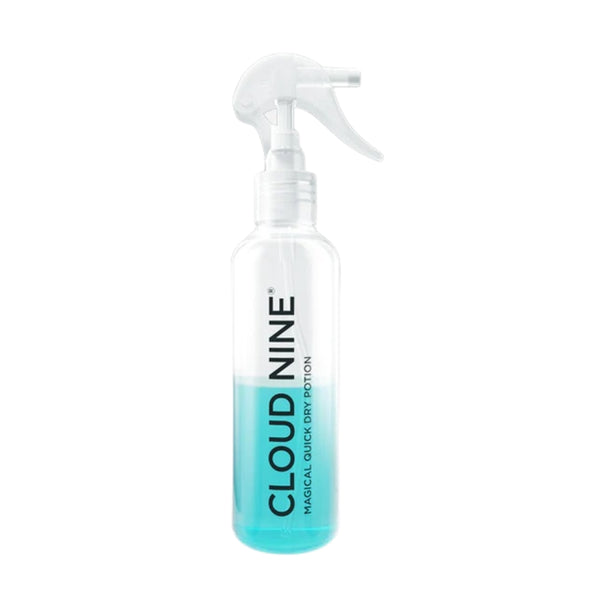 Cloud Nine Magical Potion
Cloud Nine Magical Potion is a powerful little bottle filled with heat protection, frizz and flyaway prevention and hair conditioning kindness. For healthier, stronger, shinier hair every time you style.
Protect your hair from unnecessary heat damage with the Cloud Nine Magical Potion's thermal-protection properties. Plus, with a UV filter and nourishing leave-in conditioning elements, the potion softens and strengthens hair.
A spritz of Magical Potion, on average halves drying time, contributing to an altogether kinder styling solution.
The potion will help to tame unmanageable, unruly hair, making it quicker and easier to style. One bottle of potion will last months, and leave users with shiny, sleek and fragrant tresses.
Key Benefits
Reducing heat damage - Shake the Magical Quick Dry Potion to mix the ingredients together to activate the lightweight conditioners that work to protect hair from heat damage from both styling and UV rays.

Increasing smoothness and shine - The leave-in conditioner works to nourishes hair and strengthen it from any previous heat or styling damage, leaving hair healthy and shining.

Reducing drying time - The ingredients work to reduce drying time by up to half, while taming unmanageable hair and reducing frizz and flyaways.

Reduce your impact - Whenever you buy our Magical Quick Dry Potion or Amplify Spray, we will remove the equivalent weight of ocean-bound plastic with CleanHub, helping to reduce plastic waste in our oceans.

Available in 200ml and 50ml
Additional Information
How to use
Full Ingredients